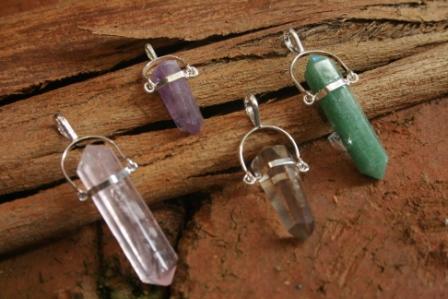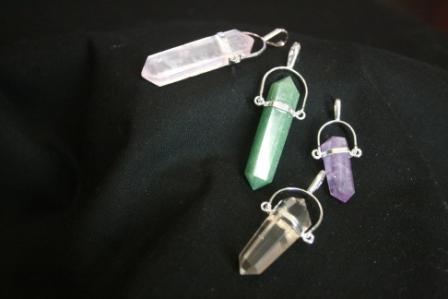 Point Crystal Pendants
Silver plated point cut Crystal Pendants available in four different crystals (As pictured) Rose Quartz, Amethyst, Green Quartz & Smokey Quartz
This piece has been hand crafted in southern Brazil.
Silver plated point cut Crystal Pendants available in four different crystals (As pictured) Rose Quartz, Amethyst, Green Quartz & Smokey Quartz
This piece has been hand crafted in southern Brazil.
Rose Quartz (Pink) - Is known as the love stone assists with all aspects of unconditional love, healing heart chakra brings in deep inner healing around self-love and love for others. Also great if you are looking at attracting romantic love into your life
Amethyst (Purple)- Amethyst is a widely adored stone for it beautiful rich purple colour and wide ranges of power and properties which is possess. Its a great spiritual enhances and can be uses to deepen your spiritual awareness and consciousness.
Smokey Quartz (Clear) - Is a great grounding and anchoring stone helps protect in energies in harsher environments by absorbing and grounding the energy. Great in healing aliments in lower region of the body legs, hips & feet. Smokey Quartz is connected with the Base Chakra and is a fantastic stone to help release and let go of anything which doesn't serve our highest good.
Green Quartz - Is the perfect stone to help open up the Heart Chakra, it helps transmute negative energy it also inspires creativity and brings about emotional balance.